Residential market activity across the Greater Toronto Area ("GTA") has been robust in terms of sales volume since the start of 2021, driven mainly by the low-rise segments of the market.
Sales volumes have been up by 52% across all housing categories, including condos which experienced an 85% increase in sales volumes year-over-year. Pricing, however, varied greatly depending on geography and asset class, but the average sale price for a residential property reached a new high of $967,885.
On average, new listings were up 20% with active listings down almost 5%, indicating that inventory is not sitting on the market. This is supported by a recorded decrease across the GTA in the number of days listings are on the market and an average price increase across the board of more than 15%.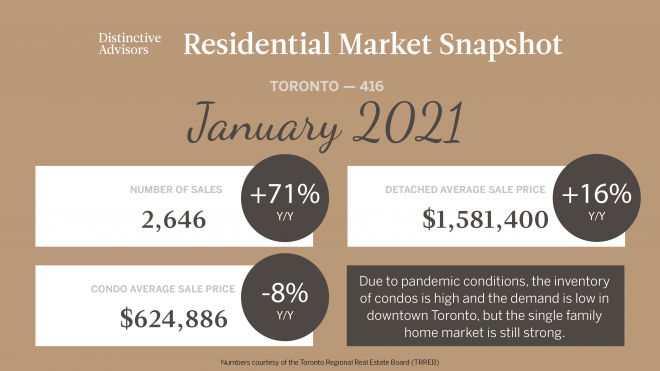 Within the City of Toronto, sales volumes were way up over the same period last year, driven mainly by condos. However, due to the current lull in the rental market in downtown Toronto, condo pricing has taken a little hit as some investor cannot afford to continue carrying empty investment properties. The detached single family home segment of the market, however, enjoyed pricing gains of 16 per cent year-over-year.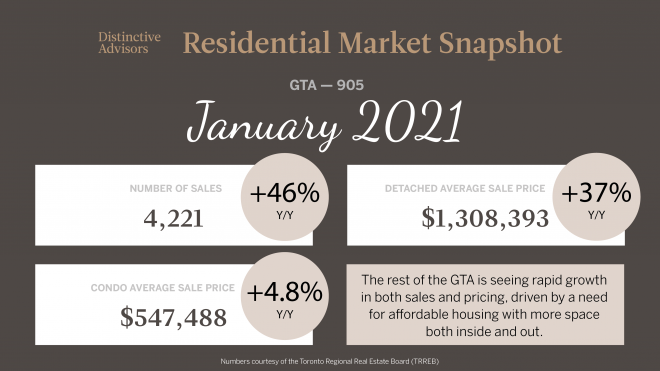 The gains in the rest of the GTA have been the most drastic, with condo pricing increases outpacing Toronto by almost 8 per cent and pricing for detached single family homes up a whopping 37 per cent over the same period last year.
The outcome of the pandemic and government regulation will have a significant impact on the Toronto rental market in the latter part of the year, which in turn will determine the direction for the resale condo market in Toronto for the near future. That being said, TRREB has indicated that they expect condo pricing in Toronto to recover if sales volumes continue at their current rate since demand will eventually outpace inventory.