Average MLS inventory (in thousands)
If you've been house­hunting this year, you may have noticed that it's been slim pickings for listings on the MLS. House listings across the country have been steadily declining for 6 years and are now less than half what they were in 2015.

How did we get here?
From the 1970s through to the 2010s, Canada grew by an average of 3.1 million people and built on average 1.3 million new single-family homes each decade. But then in the 2010s, population growth surged to 4 million but new homes built fell to less than 1.1 million: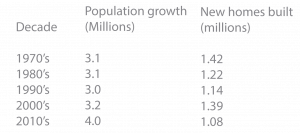 Unfortunately for prospective buyers, this shortage of single-family homes may persist until we see a substantial increase in construction activity.
We'd welcome an opportunity to discuss this important report or if you have any questions about our services, please contact our team today.