On Monday, January 17, the Canadian Real Estate Association (CREA) released its national housing statistics for the month of December. Below, CREA's Senior Economist Shaun Cathcart provides an update on the current state of housing markets in Canada and explains what the data means for members.
The big picture with the December 2021 Canadian home sales data was that it was pretty much the same story as in October and November (small gains and low supply).The monthly sales figures didn't really change from month-to-month in November or December.
But remember: sales jumped more than 9% in October. So, that's three very strong months of data in a row to finish 2021. As a result, the final quarter of 2021 was close to a sales record—and a seriously strong handoff to 2022
The question is not whether demand can keep up this pace. The demand is definitely there. The question is whether we're going to run out of homes for people buy. There were actually fewer homes listed for sale on Canadian MLS® Systems on New Year's Day 2022 than at any other time in the database's history going back to the 1980s. It's the same deal with the number of months of inventory at 1.6 months—a record low! A "Goldilocks" or "normal" (not too hot, not too cold) market would have five or more months of inventory.
Record Price Growth
Record Tight demand/supply conditions would be expected to lead to record price growth. And they have.
The national MLS® Home Price Index was up 26.6% in December 2021, a record increase. In dollar terms that's about $170,000 increase in the national Benchmark price from last December. It now stands above the $800,000 mark, which is about $240,000 higher than it was in the month before the pandemic hit.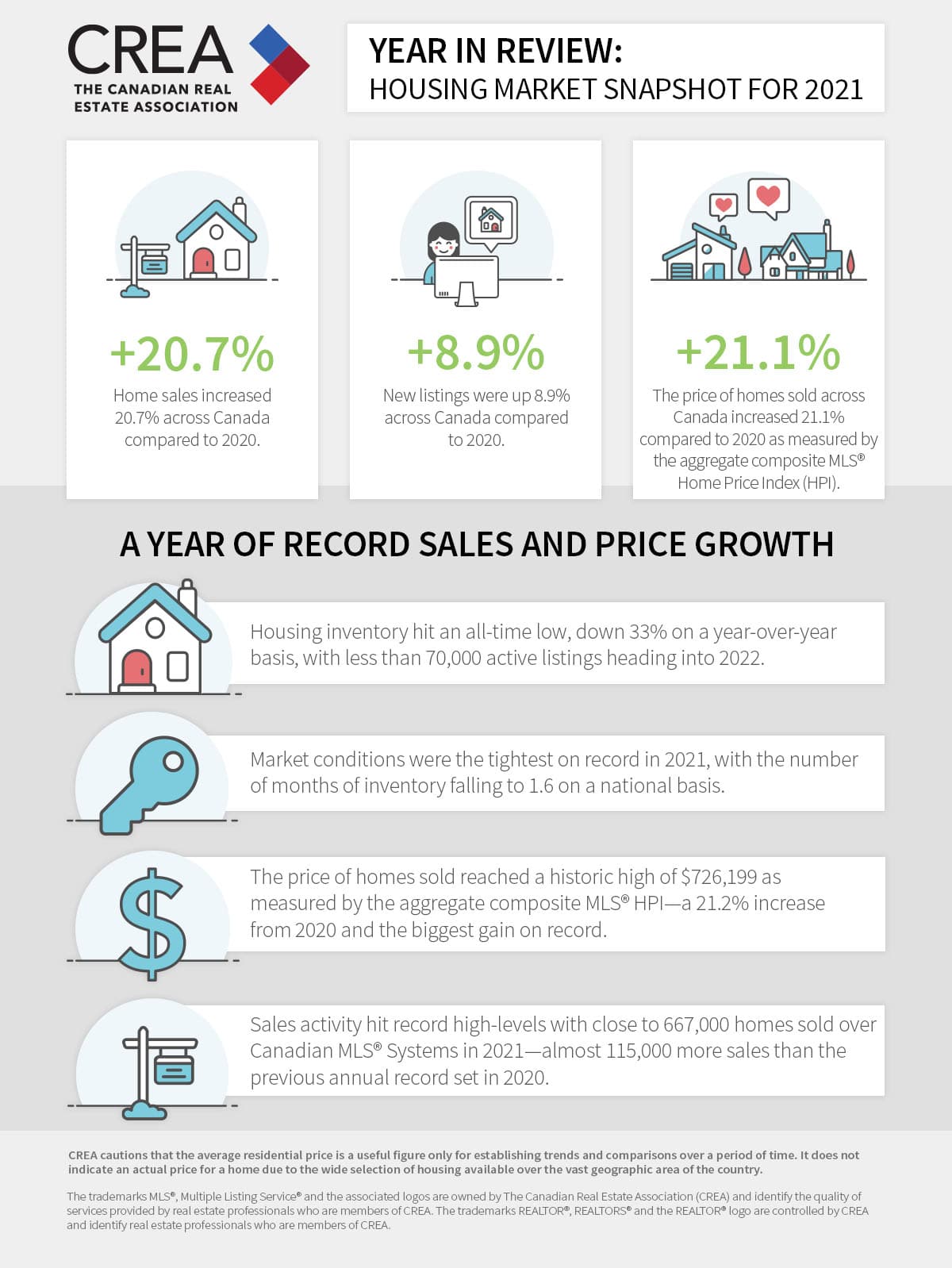 What About Inflation? 
The House of Commons Standing Committee on Finance has recently been reconvened (early) to address inflation generally and specifically home price inflation, as you have likely seen in the news.
I thought we had all already agreed at this point that we need a national effort to build more homes than ever before. The twin factors of our middle-aged demography and record international immigration all but ensure household formation and housing demand will remain unrelenting as far as the eye can see. Think rising interest rates will hit the brakes on these trends? Doubtful, at least for some time.
First, people need to live somewhere regardless of the prevailing interest rates of the day. Second, let's remember Canadian borrowers and lenders were made to begrudgingly play the role of the Ant in the Canadian housing version of The Ant and The Grasshopper half a decade ago when the stress test was brought in. A hike may be coming, but much of the current Bank of Canada interest rate tightening cycle was absorbed years ago, at least in the housing finance space.
The housing policy discussion of 2022 should be about how to get the required (never before seen) housing supply push underway—in a non-partisan way—across all levels of government.