Bank of Canada hikes rates, signals more to come
The Bank of Canada raised its key interest rate by 0.25% in early March, bringing the overnight interest rate to 0.5% and pushing the prime lending rate at big banks to 2.7%.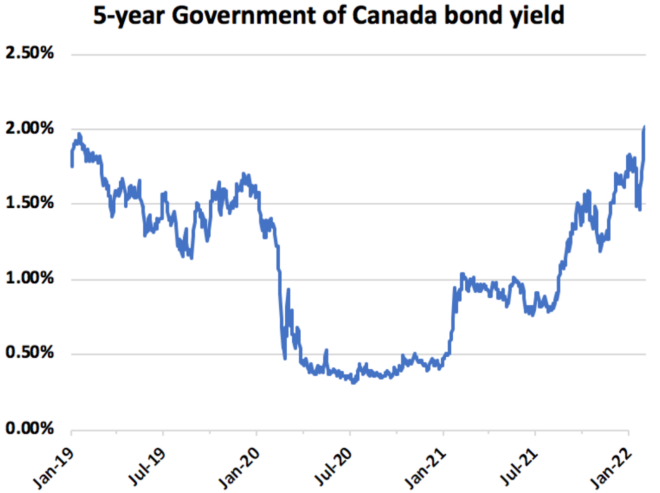 In the press release, the Bank noted that, "As the economy continues to expand and inflation pressures remain elevated, the Governing Council expects interest rates will need to rise further."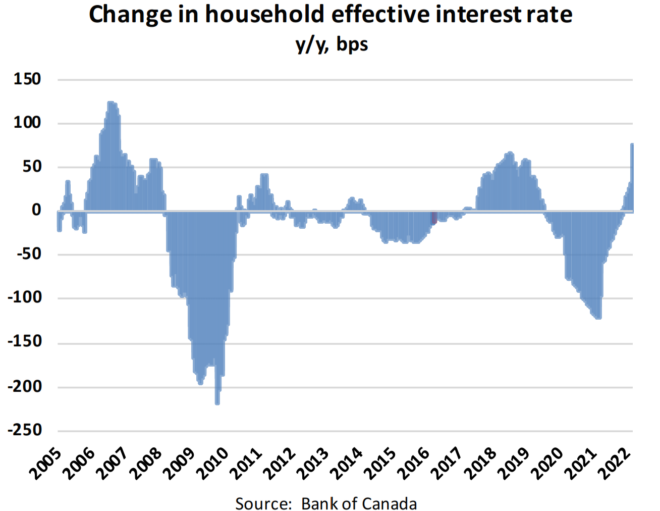 That hint of further rate hikes to come, as well as stubbornly high inflation, which came in at a fresh 30-year high annual rate of 5.7% in February, are pushing up bond yields and affecting fixed mortgage rate pricing as well. The important 5-year Government of Canada bond yield is now over 2% for the first time since late-2018.
What it means: Higher rates are already being felt by consumers. The effective interest rate paid by households across all credit products has risen by 60 basis points (bps) since the start of the year and is nearly 80bps higher than last year at this time…the steepest annual increase since 2006.
Still, consumers remain in relatively good shape.
The unemployment rate fell by 1.0% in February to hit 5.5%, just a shade off the all-time lows
The household savings rate was 6.4% in Q4 compared to less than 1% pre-pandemic
Household net worth jumped by 16% in Q4
Consumer insolvencies remain 40% below pre-COVID levels
Subtle signs of a shift in Canada's housing market
Home sales nationally jumped 4.6% month-over-month in February and remain 25% above average levels on a population-adjusted basis: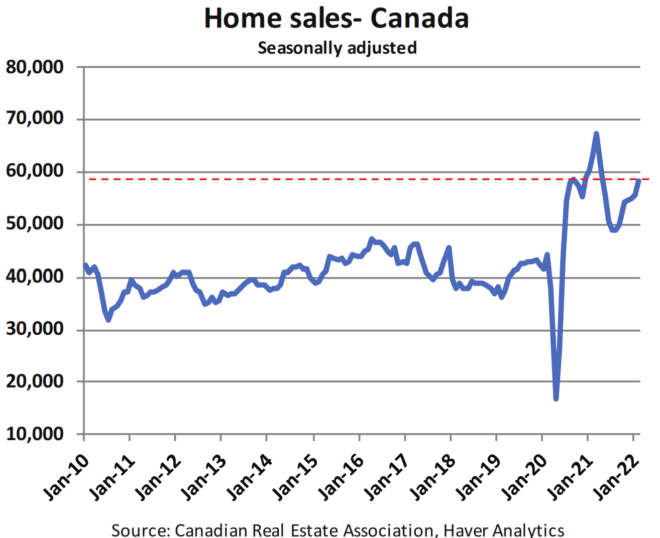 What it means: This strongly suggests that we are still seeing significant demand pulled forward, likely as buyers attempt to front-run further Bank of Canada rate hikes, and it hints at a potential demand overhang with weaker sales activity in the back half of the year as rising rates and weaker discretionary income trends take a bite out of demand.
On the pricing side, February saw the single-largest monthly increase in the seasonally adjusted national House Price Index on record at 3.5% m/m. House prices are now 29% (or $200,000) higher than they were last year at this time, a trend that will no doubt have policy-makers seriously contemplating measures to cool demand:

On the supply front, February saw a massive 23.7% m/m jump in new listings coming to market, which helped push the sales-to-new listings ratio down to 75% from the crazy highs of nearly 90% seen in January.
What it means: This indicator remains well above "balanced" territory of 50%-60%, but the fact that so many new listings came to market last month suggests that we may see some pent-up selling pressure materialize via higher listings this spring. If so, it could hopefully take the edge off some of the recent price moves and give policy-makers a little more breathing room.
Click here to download a complete copy of the Housing and Mortgage Market Review for March 2022
We'd welcome an opportunity to discuss this important Canadian Housing and Mortgage Market Review for March 2022. We'd love to hear from you, so if you have any questions about our services, please contact our team.